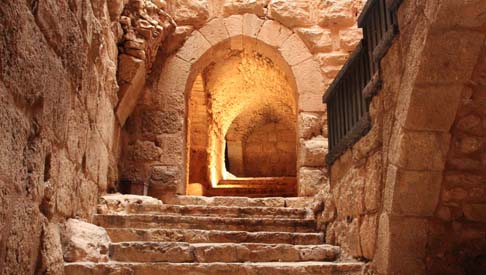 Ajloun
73 km north of Amman, and a short journey northwest from Jerash, through a beautiful pine-forest and olive groves, brings you to the town of Ajloun, where Hadrian stayed over the winter of 129-30 AD, and built himself an arch well outside the town, leaving unbonded its sides for future city walls to come out to meet it. Here you will find the Castle of Ajloun or Qalaat Errabadh (Arabic for "Hilltop Castle"), from which there is a splendid view westwards into the Jordan Valley.
Located in the center of Ajloun is the Great Ajlun Mosque. This mosque is one of the oldest extant in Jordan and dates back around 800 years. This edifice was previously a Byzantine Christian church; there have been reports of Greek writing in the oldest sections. The prayer tower is called "the filter" by some locals (referring to a cigarette filter, because half of the tower was built over a square tower, most likely a Church bell tower). In 2007 work began on improving the mosque to allow tourists to visit it. There are also reports that when the west wall fell apart in the heavy rains and snow in January 2013 a Bible and crosses were found in the old section. The Ajloun Forest Reserve is also located nearby.The whole area had been reputed to be the largest forested area in the Middle East – however, the area was largely deforested by the Turks to secure fuel for their railroad to Mecca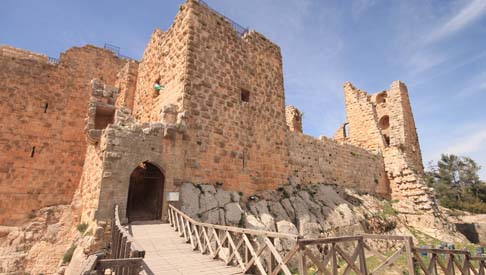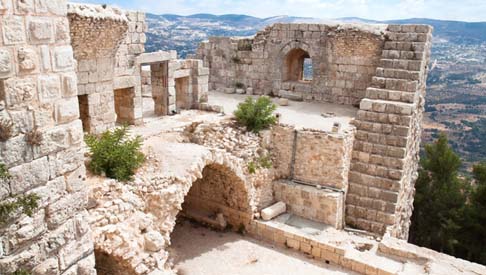 The Ajlun mountains are famous for their lush vegetation and thick green forests and a good place for hikes. Its highest mountain peaks reach around 1268 meters above sea level and Ajloun mountains receive a few snow storms every year usually in winter season from December to March. It's one of the country's most beautiful regions. Ajlun has a Mediterranean weather rainy and snowy in the winter season and pleasant in the summertime.