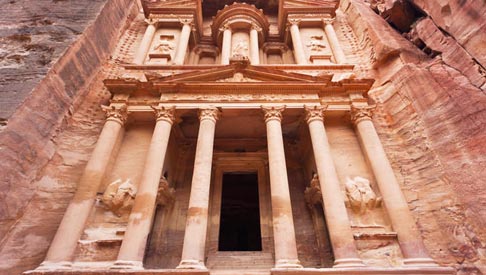 Wadi Rum
Should you tire at last of history's treasures, Jordan's desert vistas and marine life will help you to fill the idle hours. Trek or climb in Wadi Rum, a mauve hued valley of mesmerizing beauty where Lawrence of Arabia once rode. Try hot air ballooning over the hills and canyons, or spend a night under the stars in Bedouin tent. Feel the romance of the Arabian desert in the spring time … or any time, at Wadi Rum in Jordan.
Today Wadi Rum challenges climbers to scale its sheer granite and sandstone cliffs, to hike along mountain trails and valleys, to trek deep into the enchanting landscape in four wheel drive vehicles, or to join tow or three day desert safaris on camel back or 4×4 vehicles. Stunning in its natural beauty, wadi rum epitomizes the romance of the desert. Now the home of several Bedouin tribes, Wadi Rum has been inhabited for generations. these hospitable and friendly desert people are settled around the 'Beau Geste' Camel Corps Fort in Wadi Rum, and in scattered nomadic camps throughout the area. You may be invited to share mint tea or cardamom coffee in there black tents, perhaps sitting by the fire under a starry desert sky it is an experience you will never forget.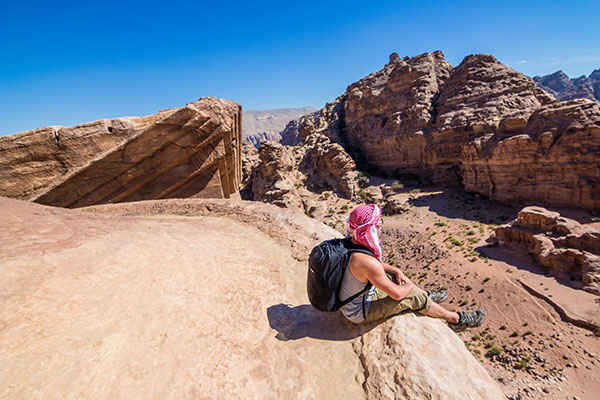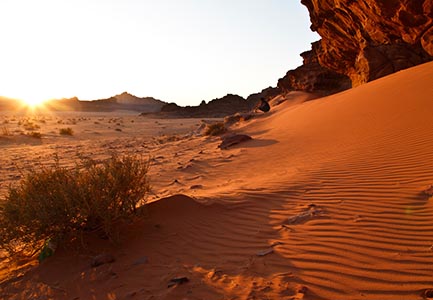 Wadi Rum Reserve :
The moonlike landscape of Wadi Rum is unique in the world. The desert of Rum is dotted with massive mountains, coloured in shades of red, yellow, and orange. Their hues spill over to colour the sand dunes around the desert and the horizon of its breathtaking panorama.
This is a place where you can become one with nature, where visitors are humbled by the towering mountains and overwhelmed by the serenity and quiet ambiance of this magnificent place.
The eco-system of Wadi Rum holds many rare and endemic plants. Spring reveals hundreds of species of wild flowers. About 120 bird species have been recorded in the area, including the Griffon Vulture, the Fan-Tailed Raven, Bonelli's Eagle, and Hume's Tawny Owl. Baseline surveys show the existence of the Grey Wolf, Blandford's Fox, the Sand Cat, and Ibex within the area.
One activity which keeps attracting thrill-seekers to Wadi Rum is mountain climbing. Ascents can range from simple hikes to serious mountain climbing more than 900 metres up sheer granite and sandstone cliffs.