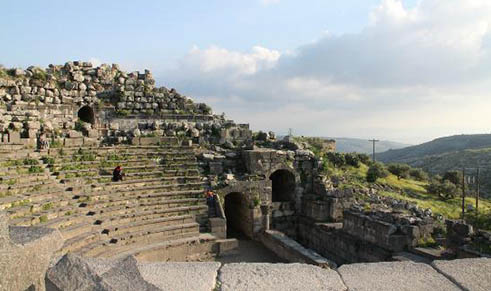 Um Qais
Historically known as Gadara, Um Qais is one of Jordan's most unique Greco Roman Decapolis sites. Tucked away in the hillside, at a height of 378 meters above sea level, Um Qais offers an incomparable panoramic view.
An exciting walk through the ages is in store for the visitor. Remnants of civilizations past solidly stand side by side; as stone, placed by ancient hands, tells of many travelers who entered its ancient gates. The Greeks were the first to marvel at the breathtaking view and established their acropolis. Later, Romans, Byzantine and Ottomans would follow, leaving their own marks on this site. The most northerly of the Hashemite Kingdom of Jordan's touristic sites, Um qais, throughout time, has continuously offered its visitors an unforgettable experience.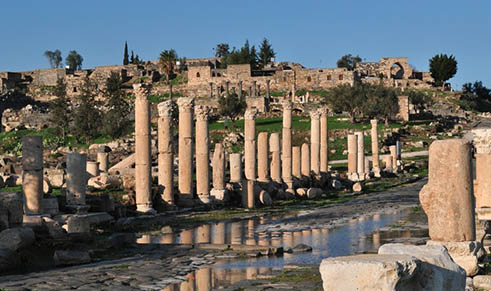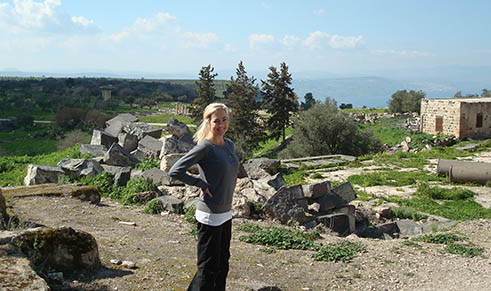 A picturesque drive through the northern countryside of Jordan will take you to your ultimate destination of Um Qais. Ascending through the northern hills, allows for an exciting view of the Jordanian landscape and terrain particular to this region. Um Qais is famous for its legacy of ancient civilizations. Greek, Roman, Byzantine and Ottoman architecture and artifacts produced in this ancient city can be found throughout the site. Um Qais is a testament of a chronological settlement of ancient cultures in this strategic location. Nestled in the hillside, Um Qais offers unparalleled breath taking panoramic view. Standing on the terrace, the blue green Sea of Galilee (Lake Tiberius) and the majestic Syrian mountains of the Golan can be seen. On a clear day the snowcapped Mount Hermon appears in the distance. This ancient acropolis also offers a serene view of the fertile northern Jordan valley. Breathing in the fresh air, one is impressed with the magnificent landscape surrounding the remnants and ruins.
It was the scene of the miracle of the Gadarene swine, and the Sea of Galilee into which they flung themselves is today's Lake Tiberius. Gadara was rich and renowned as an intellectual center; its university's scholars, poets and playwrights were famous in the reign of Augustus. Strabo wrote: "…the pleasure-living Romans, after the restorative effects of the hot springs of Amatha, retired to the cooler heights of the city, solacing their leisure with plays performed in the theaters". Note the plural: there were two theatres, many temples and palaces. Its colonnaded streets can be traced today running through the olive groves.